Oakland Township MI 's Best Place to Go For An Home Sauna
Soothe the body, mind and spirit by heat therapy.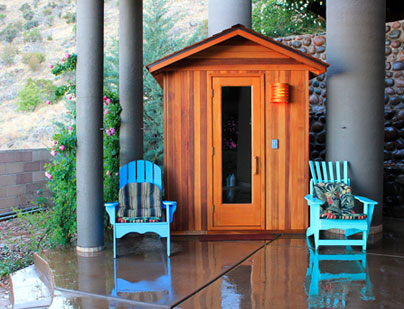 At Portable Spas plus Saunas, we are family-owned and have been installing and servicing spas and saunas for over 30 years to Oakland Township MI and the surrounding area. Our main goal is to provide you with multiple forms of heat therapy which can help to alleviate stress, tension and chromic pain so that our customer's everyday lives can be better. We believe in customer satisfaction and are committed to giving just that. Our mission is to provide superior hydrotherapy, a comfortable design and a very relaxing atmosphere to ensure you with an outstanding therapeutic experience.
---
We Offer the Most Effective Healing Powers of a "True Finnish Sauna"
We are proud to be the leading provider of Finnish style saunas. Portable Spas plus Saunas is an authorized provider of Finlandia Saunas. We provide our customers with the highest quality product in the industry. These saunas are designed to give you a recreated feeling of a "True Finnish Sauna" experience. Finland is the birthplace of the sauna and it is believed that saunas can help with living a long and healthy lifestyle.
Saunas provide you with many health benefits:
Sooth and Relax Tired Muscles
Relieves Mental Fatigue
Provides Cardiovascular Workouts, Conditioning the Heart
Promotes Healing and Releases Natural Pain Killers
Relieves Tension and Stress
Increases Metabolic Rate
Improves Circulation
and more!
Saunas open up your pores which creates a pathway for toxins and impurities to extract from our bodies. This is the deepest cleansing for your body from the inside out. There are studies that find saunas may help with reducing the risk of coronary artery disease and dementia. Learn more about the health benefits.
---
Our Services Are Trusted by Metro Detroit's Top Names
Portable Spas plus Saunas has been trusted for over three decades. We have installed Finlandia Saunas in the MGM Grand Casino and Spa, Comerica Park for the Tigers, The Beaumont Wellness Center, The Joe Louis Area for the Red Wings, the Training Room at the Troy Sports Center, as well as many Gold's Gyms, Powerhouse Gyms, and most recently, Little Caesars Arena for the Pistons. We are able to give you the same quality sauna in your home for your everyday use.
At Portable Spas plus Saunas we are committed to offering the highest quality product to our customers. We want you to be aware that there are many imitator saunas that are not a "True Finnish" experience. There are many types of saunas in the industry however, there are some that are imitating the experience through the use of cheaper cost. You can lower the cost by using infrared carbon and ceramic heating without water. A real sauna will require you to put water on heated stones that produce the humidity that goes straight into your respiratory system. By investing in what is recognized by Detroit's top facilities as the best quality choice of saunas available is an investment that you will be able to enjoy for years.
---
For those who are interested in working to improve their mind, body, and spirit, contact us to learn more about how saunas can improve your health and happiness - We offer a free quote!